The Shepp Report
Special Edition
August 26, 2015
Democrats Lied About The Importance Of Planned Parenthood To Woman's Health, Protecting Their Cash Cow

Stunning That The Profits From Parts Pulled From Dead Babies Are Welcomed Donations By The Former Political Party of JFK.
First, Let's Remember Why Life Is So Precious

Mathematician Alexander Tsiaras on Human Development: "It's a Mystery, It's Magic, It's Divinity."

"The lecture shows MRI images of a human embryo growing, up to the moment of birth. As Tsiaras talks about this, the apparent freedom that he feels to think and speak in non-materialist terms creates a striking contrast with how many Darwinian biologists might describe the same thing." - TEDTalk

__________________________________________________________________________________

So If Your Elected Officials In Washington D.C., Who Is Hooked On The Cash Cow, Says Without Planned Parenthood Women Won't Get Healthcare, Check The Maps Below And Ask, What Was That You Said?

"Mattox, with Alliance Defending Freedom, argues the Texas example paints an entirely different picture—one that actually appears to be a success story.

According to state data, in 2012, the pregnancy rate in Texas remained relatively the same, falling from 82.2 pregnancies per 1,000 women ages 15-44, to 81.1 in 2013. Abortions dropped during the same period, from 65,547 in 2012 compared to 61,513 in 2013.

'The data belies the claim that Planned Parenthood was necessary to women's health care in Texas,' Mattox said. In 2013, right after Texas ousted the organization, Planned Parenthood clinics in the state agreed to pay $4.3 million to settle a federal civil suit brought by the Justice Department under President Obama.

The suit claimed the organization fraudulently billed Medicaid for women's health care services such as birth control from 2003 to 2009. The massive drop in Medicaid and contraceptive claims, Mattox said, 'may be evidence that Texas cleaned up a lot of false claims.'" - DailySignal

8th Shocking Video Released

StemExpress CEO Admits Planned Parenthood Sells Fully Intact Aborted Babies

"The Center for Medical Progress has now released at least one of the videos that the Planned Parenthood business partner StemExpress sought to block in court after a California appeals court denied the fetal tissue company a preliminary injunction against the release of the undercover footage with its CEO. The video, released on Tuesday, features CEO Cate Dyer, who discussing a potential business partnership with what she believes is a human biologics company. She speaks with them over dinner about her current arrangements with abortion facilities, noting that StemExpress works with high volume suppliers.

'As you see Megan out there in clinics, we're working with almost triple digit number clinics, so it's a lot on volume and we still need more than what we do,' she says. 'So, it's a lot. So, I don't think you're going to hit a capacity with us anytime in the next ten years. Dyer notes that she would like to obtain 'another 50 livers a week' when asked what would make her happy." - ChristianNews - YouTube

Addendum

- "The American people deserve to know the truth about the hideous industry that buys and sells the hearts, lungs, heads, and livers of unborn babies," Life Legal Defense Foundation Vice President of Legal Affairs Catherine Short said in a statement. - TheBlaze

- However, if those American people are the ones that belong to the Democrat Party, they won't care what happens because they haven't cared since Bill Clinton was elected to office. Listening to how these pariah Planned Parenthood executives talk in secret about the selling of baby parts easily reminds one of the arrogance and aloofness of the SS Officer's discussion of their 'Jewish Problem' at the 1942 Wannsee Conference." - Webmaster

- And then there is this. I wonder what Mary Shelley would write if alive today. - TheGuardian

With Obama's progressive corrupt media at work, half of Americans to yet see the videos that capture the corruption and macabre attitude of Planned Parenthood executives. - DailySignal

Source: YouTube
List Of Corporations Reported To Donate To Planned Parenthood - DailySignal

| | |
| --- | --- |
| | PACESETTER ($10,000 – $24,999) |
| | Goldman Sachs Gives; Pfizer Foundation |
| | |
| | GROUNDBREAKER ($5,000 – $9,999) |
| | General Electric United Way Giving Campaign; HMSDesign; Pfizer Foundation; Pfizer United Way Campaign |
| | |
| | LEADER ($2,500 – $4,999) |
| | Aetna Foundation; Agniel Commodities; LLC Brenner, Saltzman & Wallman, LLP; Chace Ruttenberg & Freedman, LLP; Cigna; GE Foundation;Goodcopy Printing & Graphics; Johnson&Johnson; McKesson Medical Surgical; Don and Helene Hirschfeld Truist, Inc.; General Electric Co.; UPS; Women's Health USA; Working Assets |
| | |
| | ADVOCATE ($1,000 – $2,499) |
| | Bank of America United Way Campaign; Bristol-Myers Squibb Employee Giving Program; Coach Matching Gift Program; Decorative Crafts, Inc.; ExxonMobil Foundation, Inc.; High End Landscape LLC; Illinois Tool Works Foundation; John D. and Catherine T. MacArthur Foundation Matching Gifts Program; Lindquist Insurance Associates, Inc.; Network for Good; The Prudential Foundation; Tug Hollow Corporation; United Technologies Employee Charitable Giving |
| | |
| | ORGANIZATIONS - MATCHING EMPLOYEE GIFTS |
| | Aetna Matching Gift Program; Aon Foundation; AT&T United Way Employee Giving; Bank of America Matching Gifts Program; Bristol-Myers Squibb Employee Giving Program; CHA, LLC; Cigna; Coach Matching Gift Program; Cornerstone Real Estate Advisers, LLC; Decorative Crafts, Inc.; ExxonMobil Foundation, Inc.; GE Foundation; General Electric Co.; Goldman Sachs Gives; IBM Employee Charitable Contributions Campaign; Illinois Tool Works Foundation; ING Employee Giving Campaign; John D. and Catherine T. MacArthur Foundation Matching Gifts Program; Johnson&Johnson; Mead Witter Foundation, Inc.; Network for Good; Pepsico Foundation, Inc.; Pew Charitable Trusts; Pfizer Foundation; The Prudential Foundation; The Stanley Works Matching Gifts; Travelers Foundation; Truist, Inc.; United Illuminating Company; United Technologies Matching Gift Program; UPS |

So How Did Obama's Democrat Supporters In The U.S. House Of Representatives Respond To The Obscene Videos?

"Just one day after Planned Parenthood was exposed cutting up a live baby for body parts for sale, Democrats in the House of Representative are launching their own investigation after the Planned Parenthood abortion business.

But instead of looking into the abortion giant [Planned Parenthood], they are probing the pro-life group behind the series of expose' videos. [Can you believe it?]

To U.S. Congressman Cummings, from the great state of Maryland, having served almost 30 years in the U.S. House leaving room for no one else to serve from his district, one must ask since taking out the brain of a live baby does not affect him, how far will he allow Planned Parenthood, which his party has worshipped for decades.

- Webmaster

The top Democrat on the House Oversight Committee is launching an investigation into the Center for Medical Progress, the pro-life organization that spent years recording the undercover videos and tracking information to expose Planned Parenthood and the abortion industry and biotech industry's involvement in the abortion of unborn babies and the sales of their body parts to top universities for research.

While House Republicans are investigating Planned Parenthood and more than a dozen states have either taken steps to de-fund Planned Parenthood or launch their own investigations, Democrats in Congress are going after the pro-life advocates responsible for the undercover sting operation. [Remember what these thugs did to Linda Tripp over just a blue dress?]

The Hill has more:

Rep. Elijah Cummings (D-Md.) sent a letter to the Center for Medical Progress on Thursday, demanding details to show whether the group broke state or federal laws when it secretly recorded videos of Planned Parenthood staff without consent.

The Center, led by the anti-abortion activist David Daleiden, established a fake company to gain entry into clinics and meetings with Planned Parenthood officials — a move that Democrats, including House Minority Leader Nancy Pelosi (Calif.), [who said OWS was blessed by God], have blasted as potentially illegal. [In other words, Planned Parenthood was only wrong because it got caught, which takes us back to Linda Tripp and the blue dress.]"

The group has also been asking for donations as a nonprofit charitable organization for the last two years, which Cummings said contrasts with its current self-identification as a group of citizen journalists." - MinutemenNew

Planned Parenthood's XXX Rating - Your tax dollars at work.

Summary

Karl Marx's Useful Idiots Come To America In Droves

"Watching the above video on how tens-of-millions of American parents across the country allowed progressives from Planned Parenthood to have access to teach their children, you can clearly see the organization was given permission to go into "captive" classrooms, unchallenged!

This has been happening OVER AT LEAST THE LAST 15 YEARS under Planned Parenthood's lies of sex education when its training programs were really about indoctrination and social engineering of America's children. What do you think Planned Parenthood was doing during that time to the unborn, adopting them out to needy homes?

When Americans don't protect their freedom and their children, they richly deserve to lose both. And those children? Well they're now adults that run corporations across America, or didn't you notice the above list of contributors to Planned Parenthood?

So if removing the live brain from a living baby for profit is obviously no problem for America's socialist party, it becomes clear that its leadership really wants no limits placed upon Planned Parenthood and its financial resource.

Planned Parenthood is a national disgrace that has been allowed to see another's life as one it can abuse in any way it chooses without having to follow annoying restrictions by others outside of progressive America. This is because for decades the liberal Democrat leadership around the nation has cleared a path for Planned Parenthood into the unknown, city by city, town by town, school by school.

It's therefore easy to see why Obama's Democrat Party hates the country's founders, as it now tries to discredit the Constitution's author as a racist. Consider yourself warned about the future direction the Democrat Party wants for the United States of America. And they could begin to dismantle it as soon as January 2017.

Need more proof of this attitude that comes from progressives? How about this recent news story? 'Progressive Physician To Conservative Woman: 'Die Soon, There Are Liberals Waiting For Your Organs.'" - Gateway Pundit

Webmaster

PETA Cupcakes Want A Memorial Made For Pigs Who Died In Highway Accident - LastResistance

"How Google Could Rig The 2016 Election: Google Has The Ability To Drive Millions Of Votes To A Candidate With No One The Wiser." - Politico

"Facebook Is Manipulating Data To Protect Planned Parenthood." - EagleRising

Who Else Would Do This But A Democrat! "Senator Stands Up for Planned Parenthood; Wants To Make It A Federal Crime To Abuse Animals." - LastResistance

Planned Parenthood Seems To Already Own This Republican Candidate. If The Unborn Are Not Safe, No One Is: "Presidential Candidate John Kasich Says Republicans Focus 'Too Much' On Abortion." - LastResistance

"Smithsonian Refuses To Remove Margaret Sanger Statue: We Don't Care She Was A Eugenicist [calling minorities human weeks]." - Zionica

"Bobby Jindal Orders Undercover Planned Parenthood Videos Screened For Protesters." - DailySignal - Note: "The Advocate Reports That 'Only About 50 People Gathered In A Field Across The Street From The Governor's Mansion For The Protest.'" - DailySignal

Planned Parenthood's Favorite Journalists: "Curious as to why news media outlets have been largely ignoring abortion conglomerate Planned Parenthood's trafficking in fetal organs? Perhaps its because most journalists are too busy getting accolades from them." - TruthRevolt

Photo Of Program Winners

Photo Source: TruthRevolt

Oh, One More Thing The Progressive Media Seems To Have Missed. After the liberal media tried to use shooting of wild African animal to bury stories of video releases on Planned Parenthood's carnage of babies born alive, American Dentist Is Cleared In Cecil The Lion Drama. - ClashDaily
- The Trojan Horse In The White House -
| The United States Flag: Federal Law Relating To Display And FAQs | U.S. Flag Code |
Looking around America today, George Bailey did get his wish.
Thank you for considering to pass along these e-mails.
Did you miss one of our e-mails? Check out the link below.
HTML E-mail Content from Freedom is Knowledge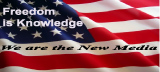 | Fascism Comes To America | It Doesn't Matter?! | What Privacy? | America Facing Evil | Whistleblower | Historic Biblical Times |
| Obama's 1990 article - "We're Going To Reshape Mean-Spirited Selfish America." | Print Page |
It is no measure of health to be well-adjusted to a profoundly sick society - J. Krishnamurti