The Shepp Report
Special Edition
Now It's CNN That Attacks Dr. Carson
October 12, 2015
Obama's Progressives Out Of Control Press, Remnant Of Fascist Thug Media Of The Third Reich

- GQ Magazine Blogger: '**** Ben Carson' - CNSNews

- Backlash On Hillary Supporter, Seth Rogen, Also Saying "**** Ben Carson." - Breitbart

- Then Esquire Magazine Headlines: 'Punch Jindal In The D*ck' - TruthRevolt

- Breaking / Former Intelligence Analyst: Political Correctness Is A Manipulative Tool For Centralizing Power - DailyCaller
CNN Progressive Reporter Attacks Dr. Carson As A Racist . . .
. . . as "Christian" Obama pulls pork from the menu at all federal prisons, forcing non-muslim prisoners to follow Muslim meat diet, CNN reporter asks Dr. Carson several times, Do You Believe Obama Is A Christian?
Wolf Blitzer of CNN doesn't try to hide his obvious bias against Christian Dr. Ben Carson. Watch CNN's top reporter treat Dr. Carson as if he had been arrested and grilled by detectives for a crime, trying again and again to trap Dr. Carson to say that Barack Obama is a "real black president." Blitzer then asks if he believes Obama is a Christian, as Wolf says nothing about Obama suddenly removing pork from the menu of ALL federal prisons. Dr. Carson replies he is not going to play CNN's "semantic" games.
Let's walk down memory lane about the agenda of CNN in representing the world over America. Of course CNN never sees it that way:
Keep in mind that anything is possible with CNN that attacks conservative values while promoting a progressive agenda, calling it news and sometimes acting as if it is a rogue news outlet.
When a CNN crew met with a family of a lost soldier, the family was stunned to hear them say, "if it bleeds, it leads." CNN's control room was also reported to have put up an X over Vice President Cheney's live image while later running a chyron over a video of the British Prime Minister that "Bush resigns."
CNN also picked up what was called a "snuff" video of terrorists murdering an American soldier, the translated audio hearing the terrorist say for the American audience CNN would push the film to, "Wait until women and children are out of the way." And don't forget CNN's support of al Qaeda over president Bush. In 2011 CNN's Fareed Zakaria also suggested America should get rid of its old Constitution, comparing change to Iceland's new government. Finally, it was CNN that negotiated with Saddam to be the only media outlet to stay in Iraq as long as it didn't report on his atrocities to citizens. And don't forget the CNN series questioning Christians and Jews, "God's Warriors."
So let's not be so fast to give CNN a pass. While Snopes reported CNN never published the split photo of Mercer, it was also Snopes that claimed when candidate Obama said "57 states" he was just tired. Snopes could have said if Obama had attended American schools all his life he would have known there were not 57 states. It's why Snopes is good at what it does but not great. - Webmaster
October of 2006: Anderson Cooper ran snuff video on CNN, endangering our troops. He has been rewarded a spot on CBS 60 Minutes. Hmm? - FOXNews
Domestic

- CAIR Cheers Obama Administration's Ban On Pork Products At Federal Prisons - Gateway Pundit

- Irving, Texas, Officials Release Horrible Threatening Emails To School Officials And Mayor Over Clock-Boy Being Challenged, Encouraged By Obama Inviting The Muslim Boy To The White House As The Boy's Father Believes 9/11 Was Not Caused By Muslims - CBSDFW / Video URL

- Dr. Ben Carson, Guns And The Holocaust: Doesn't History Matter? - NewsBusters

- Dr. Ben Carson: 'The Constitution Isn't Brain Surgery' - CBN

- Obama's Former Pastor For Ten Years Before Obama Became President Speaks At Farrakhan's Million Man March: "Jesus Was a Palestinian." - GatewayPundit

Overseas

- Netanyahu: Radical Islam Reaching Israel, Israel On High Alert - CBN

- UK Charity Pulls 'Refugee' Camp Funding In France After Migrants Literally BURN Food And Clothing Donations - GatewayPundit

- 'Muslim Refugees Overrun Munich Hospital, Stab Doctors. Where Is The Media Coverage? - ClashDaily

Dr. Alan Keyes Seven Years Ago

Dr. Alan Keyes' warning about Obama's agenda as president, February 2008

- Keyes2008
- The Trojan Horse In The White House -
| The United States Flag: Federal Law Relating To Display And FAQs | U.S. Flag Code |
Looking around America today, George Bailey did get his wish.
Thank you for considering to pass along these e-mails.
Did you miss one of our e-mails? Check out the link below.
HTML E-mail Content from Freedom is Knowledge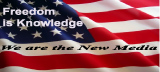 | Fascism Comes To America | It Doesn't Matter?! | What Privacy? | America Facing Evil | Whistleblower | Historic Biblical Times |
| Obama's 1990 article - "We're Going To Reshape Mean-Spirited Selfish America." | Print Page |
It is no measure of health to be well-adjusted to a profoundly sick society - J. Krishnamurti