The Shepp Report
Special Edition
Congressional Benghazi Report Released
June 28, 2016
Trey Gowdy Benghazi Report's Full Press Conference - House Select Committee, June 28, 2015, 57 minutes
____________________________________________________________
Western Journalism's Stunning Response To Benghazi Release
"The 800 page Benghazi report was released on June 28, 2016, I intend to read the entire report, and update my viewers, and subscriber's as best as I possibly can." - Gabor Zolna
Video Source: YouTube
Hugh Hewitt's June 28th Interview On Final Benghazi Release
"Hugh Hewitt interview with Rep. Mike Pompeo of the House Intelligence Committee on Benghazi. 6/28/2016." - HughHewittShow

Video Source: YouTube
Now For The Democrat Party's View On The Benghazi Investigation
"Hillary Clinton Was Active And Engaged." - NPR
____________________________________________________________
The Democrat Party's Attack On This Investigation Is No Different From The Democrat Party's Usual Cover Up Of Its Grab For Power At Any Cost.

Nothing has changed. Remember what the party accomplished 118 years ago in the Wilmington Massacre of 1898? - Webmaster

NOTE: As of this writing, Democrats are trying again to regain power in North Carolina, power they had first realized from the destruction of the black community in Wilmington, North Carolina, where not a single Democrat was held accountable. After the massacre Democrats would hold power in North Carolina UNTIL 2012. - FIK
Through Actions Such As The Wilmington Massacre, The Democrat Party Stopped Blacks From Being Successful In America, The Party Putting Those Negroes In Their Place.

PS: Guess who attended the North Carolina Democrat Party's annual Charles Aycock Fundraiser in 2008, Aycock the White Supremacist who helped to create the environment for the 1898 Wilmington Massacre? You got it, Democrat Party leader Barack Obama.
Graphic compliments of Diogenes'MiddleFinger
______________________________________________________________
America's First Unannounced Muslim President
- The Trojan Horse In The White House -
| The United States Flag: Federal Law Relating To Display And FAQs | U.S. Flag Code |
Looking around America today, George Bailey did get his wish.
Thank you for considering to pass along these e-mails.
Did you miss one of our e-mails? Check out the link below.
HTML E-mail Content from Freedom is Knowledge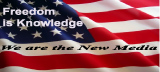 | Fascism Comes To America | It Doesn't Matter?! | What Privacy? | America Facing Evil | Whistleblower | Historic Biblical Times |
| Obama's 1990 article - "We're Going To Reshape Mean-Spirited Selfish America." | Print Page |
It is no measure of health to be well-adjusted to a profoundly sick society - J. Krishnamurti