The Shepp Report
Special Edition
Boss Or Bully?
April 20, 2016
It's Your Call: Sex Offender Or Freedom Fighter?

Nothing lasts forever. America evolves into accepting a more pagan / hedonistic society.

____________________________________________

After the Bruce Springsteen band suddenly cancelled a concert in North Carolina over the state passing a bill to protect citizens from unexpected abuse in public and private bathrooms, one of his band members proclaimed that he wanted North Carolinas to "HURT." The bully musician seeing those who wanted special bathroom rights as "freedom fighters."

He continued, according to a RollingStone Magazine article:

"'It's unfortunately the only way people understand. You have to hurt them economically in order to have them do the right thing morally, unfortunately,' the guitarist said, adding that he hoped Springsteen's efforts in the state would 'set some kind of example for others.'" - RollingStone Magazine

A Web page from Berkeley University's, The Greater Good, reminds us in its article titled, The Power Paradox, of the dangers of individuals trying to make people do what they want:

"'It is much safer to be feared than loved,' writes Niccolò Machiavelli in The Prince, his classic 16th-century treatise advocating manipulation and occasional cruelty as the best means to power.'" - ThePowerParadox

However Springsteen's band may be getting its wish sooner than it thought, shown in the following two news articles.

The first one details stories the mainstream media seems to have dropped on the editing room floor about the leader of this bathroom effort in North Carolina being a convicted sex offender. He has been pushing for any person that "feels" they may be a transvestite to be able to use the restroom that best reflects that feeling at the time of their need, a person the Springsteen's band says it sees as a "freedom fighter."

The second one is about an actual incident of innocent people put into unexpected encounters, which the governor of North Carolina had warned about and why he signed the new bill. These Canadian victims could be seen as acceptable collateral damage to Springsteen's band that has stepped off the stage, deciding for whatever reason it needed to become interested in everyone's private parts.

The way this has been handled by the media reminds me again of the killing and torture of Jesse Dirkhising circa 1999, a young teenager murdered by two adult gay men. I put up a memorial page to Jesse giving the police report, probably the only memorial to the boy on the Web. The national media felt uncomfortable about reporting the story, as if Jesse was the dirty one to the point of saying, "Oh, why even report it. No one will miss him."

And they didn't, virtually every major newspaper and national TV station across America agreeing to throw dirt on Jesse's warm grave a second time. So if you trust the media for your news, remember its edited to be sure you only see their progressive side of the story.

While it is a free press, it is free in the media's eyes to manipulate the news and sometimes even in rank step as seen fit for Jesse's death. That was later confirmed by a report I read about an editor for the New York Times. He openly acknowledged a story the Times didn't report on Sara Palin, proving the real attitude of our corrupt media led by the progressives who run the New York Times itself. His reason for not running the story? It's only news when we say it is.

And so goes the reason that few readers ever knew about the demise of Jesse, the young teenage boy from Arkansas. In the end Russia has its state media, Pravda, while America has its state media, the New York Times. Sometimes the only difference between the two could be their GPS.

Before moving on to these two articles, let's first go to the videotape. - Webmaster

North Carolina's Governor Releases Details of Bill Being Attacked By Obama's Fascist's Organizations - FIK

__________________________________________________________

North Carolina Transvestite Bathroom Sponsor?

A Convicted Sex Offender

The Definition of a Freedom Fighter should not be a clouded issue, but that is what it has become in this "progressive" Western world. - Webmaster

Article by Tim Brown, April 16, 2016, FreedomOutpost, Titled, "When bathroom bill sponsors are sodomites and convicted sex offenders."

"The brouhaha in North Carolina over efforts in the City of Charlotte to allow mentally ill transgendered people to use restroom facilities that are designated as those opposite of their birth gender faced a strange twist when it was discovered that the man behind leading the charge for the bill is not only a sodomite, but also a convicted sex offender.

It's even strange that I have to designate a difference between one who is engaged in sodomy and one convicted as a "sex offender." In any case, such is exactly what was revealed by Breitbart News in March.

Breitbart reported . . .

"Chad Sevearance is president of the Charlotte Business Guild (site shutdown), which describes itself as 'a network of LGBT professionals, business owners, employees and individuals in the Charlotte area who meet to nurture a network of business contacts; encourage fellowship and support among community business, professional and charitable pursuits; and provide and promote positive role models in the LGBT community.'

Sevearance and his group have taken a lead role in seeking the right to allow males to use the restrooms and showers of females, including those of little girls, which is described by advocates as nothing more than nondiscrimination measures.

Sevearance was quoted in the Charlotte Observer saying that because a recent bathroom 'nondiscrimination ordinance' bill did not pass, 'someone can ask me to leave a restaurant because I'm presumed to be gay or transgender.[']

In 1998, Sevearance worked as a youth minister and in that capacity allegedly lured younger men to his apartment to spend the night where Severance showed them pornography and tried to talk them into sex. One boy testified that he woke up to find Severance 'fondling him.' Severance was convicted on one charge of sexual molestation of a minor.

As a result of his 2000 conviction, Sevearance must register with the police on a regular basis for a minimum of ten years. His most recent mug shot and registration took place at the end of last year."

Though Sevearance is cited all over the place in the Charlotte Observer, but it seems the little fact of Sevearance's criminal history was overlooked, or more than likely intentionally left out of stories in order to help advance the agenda. However, Breitbart was able to confirm with the Observer that the same Sevearance they cited is the same one who is a convicted sex offender.

Sevearance, who has gone by a whole host of aliases, including Chad Turner (allegedly his "married" name; no, it's not real marriage, it's just sodomites demonstrating their depravity), was charged in 2000 while in Bessemer City, North Carolina with "three counts of lewd acts with a minor."

According to Upstate.com, Sevearance was a music minister at New Harvest Church of God in Gaffney, and the story the boys who were molested told is very disturbing.

Upstate.com reports:

"The boy, now 16, was 14 when he said Sevearance fondled him in July 1998. He and the other alleged victims are members of New Harvest Church of God in Gaffney, where Sevearance was the music minister. The 16-year-old said Sevearance invited him to his Bessemer City home to spend the night, and he agreed. He testified that during the visit, Sevearance asked him how he'd feel about a man performing oral sex on him.

'I thought he was joking,' the youth said. He said Sevearance frequently asked him about sexual acts between men and women, which upset him because of the man's position in the church. He said following a revival meeting, he and Sevearance stayed overnight at the home of one of the other alleged victims.

The three slept in the same bed, and during the night the boy said he woke up to find Sevearance fondling him. But he didn't immediately report it, he said. 'I was ashamed,' the boy said. I thought there was something bad about me.'

The second boy, now 17, said he was 15 when Sevearance invited him to his home, where he showed him a pornographic video of a man and a woman having sex. He said later that night, after he and Sevearance went to sleep in the same bed, he woke up to find the man fondling him. 'He told me if I ever told the pastor, he'd make me look like a fool and a liar,' the youth said."

Understand, that what people like myself and others have tried to warn people about is that it is sexual deviants, even masquerading as Christian leaders in Churches, who will take advantage of these bathroom bills to simply indulge their lusts, and criminal government leaders are more than happy to institute such laws to criminalize those who do good.

If Chad Sevearance isn't proof for you, then perhaps you should read my interview with former Columbia City Councilman Cameron Runyan and see the tyrannical laws that are on the books now in South Carolina's capital." - FreedomOutpost

Article by Tim Brown, April 16, 2016, FreedomOutpost, Titled, "When bathroom bill sponsors are sodomites and convicted sex offenders."

__________________________________________________________

Murphy's Law: If It Can Happen, It Will.

NOTE: Only extreme cases like this one in Toronto in 2014 will ever make it to the news. But how many everyday complaints will not, thousands of people across the nation either afraid to say anything or too embarrassed to even mention an unexpected tease or unwelcomed encounter? They could then fear the use of any bathroom outside of their own home. Think I'm wrong about the media? Just ask Jesse Dirkhising how they treated him. Oops, you can't. He's dead. - Webmaster

Article by Peter Baklinski, March 6, 2014, Barbwire

"TORONTO, (LifeSiteNews.com) – A biological man claiming to be 'transgender' so as to gain access to and prey on women at two Toronto shelters was jailed "indefinitely" last week after being declared by a judge a "dangerous offender."

Pro-family leaders are pointing out that this is exactly the type of incident they warned of as the Ontario government passed its "gender identity" bill, dubbed the "bathroom bill," in 2012.
Christopher Hambrook, 37, leaned on the ever expanding legal "rights" offered to people who "identify" with the sex opposite their biology.

Under the name "Jessica," he was able to get into the women's shelters, where he sexually assaulted several women in 2012, the Toronto Sun reports. (Note: Since this story was written, Sun has taken down two Web articles related to this story - Webmaster) "Court heard how one woman awoke to find Hambrook assaulting her on her bed. 'Her tights had been pulled down past her bottom and her bathing suit had been pulled to the side,' court documents reveal. 'She yelled at the accused, demanding to know what he was doing. He simply covered his face with his hands, said 'Oops!' and started giggling.'"

"Jack Fonseca of Campaign Life Coalition told LifeSiteNews that it 'didn't take a brain surgeon to predict that letting men into women's bathrooms and other private spaces would eventually lead to sexual assaults.'"

Court also heard evidence of Hambrook terrorizing a deaf woman living in the shelter. "The accused grabbed the complainant's hand and forcibly placed it on his crotch area while his penis was erect," court heard.

The same deaf women reported that Hambrook would peer at her through a gap between the door and its frame while she showered. Justice John McMahon imposed the "indefinite" prison sentence due to Hambrook's long history of committing sex crimes.

Hambrook was a former stripper and escort from Quebec before moving to Toronto in 2009 and posing as a woman. While in Montreal he served four years in jail for a 2002 sexual assault of a five-year-old girl who was a family friend and for raping a mentally challenged 27-year-old woman while on bail for the first crime, reports the Toronto Sun. (Note: Since this story was written, Sun has taken also down this Web article related to this story - Webmaster)

The prosecution successfully convinced the judge that Hambrook's out-of-control sexual urges put the public at great risk and that an indefinite jail sentence was the only way to protect the public. "I am satisfied there is no reasonable expectation that a lesser measure would adequately protect the public from Christopher Hambrook," said Judge McMahon.

Ontario amended its Human Rights Code to make "gender identity" and "gender expression" prohibited grounds for discrimination in 2012. The bill's sponsors said at the time that the so-called "Toby's Law" would open the door to "social change" in Canada. Family advocates argued at the time that the NDP sponsored bill would create a legal right for a man who calls himself 'transgender' to use rooms and facilities intended for women so as to exploit women.

The bill was subsequently dubbed the "bathroom bill" by its critics. Allowing a man who calls himself 'transgender' to enter a woman's area has already proved problematic in the United States.

In 2012 a college in Washington state decided it would not prevent a 45-year-old man who presents himself as a transgender "female" from lounging naked in a women's locker room in an area frequented by girls as young as six. Teenage girls on a high school swim team were using the facilities when they saw "Colleen" Francis deliberately exposing male genitalia through the glass window in a sauna. Police told one outraged mother that the university could not bar the biological male from the premises.

Brian Rushfeldt, president of Canada Family Action, told LifeSiteNews that Hambrook's method of gaining legal entrance into the woman's shelters proves gender identity legislation is inherently flawed.

"The Ontario law is dangerous. It is unacceptable that any country would allow a law which puts citizens at risk. It proves the law was ill planned and executed, and the government should be held legally responsible for these crimes."

Jack Fonseca of Campaign Life Coalition told LifeSiteNews that it "didn't take a brain surgeon to predict that letting men into women's bathrooms and other private spaces would eventually lead to sexual assaults."

"I wish we didn't have to say 'I told you so,' but Ontario's party leaders and MPPs were warned that the transsexual 'Bathroom Bill' endangered women and needed to be defeated."

"Of course this lunatic law could only make it easier for rapists and peeping toms to prey on female victims while masquerading as 'transgendered.'"

Fonseca called for a repeal of the law. "If this dangerous law is not repealed, we will only see a rise in male predators attacking women in spaces where they deserve the right to privacy like bathrooms, change rooms and women's shelters."

Fonseca took aim at Progressive Conservative leader Tim Hudak for supporting the bill, saying that he should take "personal responsibility for the attempted rape of those poor women in the shelters."
"Hudak cannot escape blame: He supported this nonsensical law."

QMI Agency's Christina Blizzard wrote, (Note: Article has been taken down from server), in an opinion piece last week that women have a "right to protection."

"This is a bad law that allows heterosexual predators access to women in their most personal moments. Extra care should be taken to protect at-risk women in vulnerable situations, such as homeless shelters."

Ezra Levant said that the gender identity law in Ontario has made the province become a "magnet for rapists."

"Instead of women being protected in Ontario, instead of the law protecting women, the law serves up women to a rapist named 'Jessica,'" he said on his show The Source. (Note: Article has been taken down from server.)

A federal version of the "gender identity" bill currently sits in the Senate after failing to pass its third and final reading in August after the Conservatives shut down Parliament for a summer break.
Fonseca said that the federal legislation puts Canadian women at risk.

"We urge all concerned Canadians to phone, email and write Canada's Senators pointing out that the Ontario version of this law allowed Mr. Hambrook to sexually assault two women, and to ensure that Senators do not make the mistake of granting legal cover to would-be rapists at the federal level."

Tell the Senators to vote NO to Bill C-279 when it comes up again." - Barbwire / Report via LifeSiteNews

Article by Peter Baklinski, March 6, 2014, Barbwire

__________________________________________________________

The Kiss

When deciding to watch Disney / ABC Entertainment with children, parents better have their antenna up for very (MA) mature audiences only. Or better yet, maybe just turn if off.

Hillary, Disney And Miley Cyrus: Three Peas In A Pod

No longer the company Walt had envisioned. Read the fine print!

"Laced with her typical crude behavior and profanity, Miley Cyrus launched a campaign last week to support the abortion giant Planned Parenthood." - LifeNews

Photo Source: LifeNews

Disney Theme Parks

What's in a name? Obviously not much anymore.

It's probably not fun for kids using those bathrooms when visiting Disney by accident during its Orlando gay day, (now a week), in June. - YouTube

Video Source: GayTravel

__________________________________________________________

'We Have To Have More Dialogue — Not Threats': N.C. Governor Defends Transgender Bathroom Bill - TheBlaze

Bitter fight over North Carolina's bathroom bill not slowing down, as any bathroom in any business or religious organization in any part of North Carolina would be subject to a person's feeling if they were a man or a woman. - CBN

Video Source: CBN

Brave Rock Band Boston Cancels North Carolina Shows Over 'Oppressive' Bathroom Privacy Law — [But] Will Still Play Japan Where Gays Are Denied Healthcare - Breitbart

This All May Now Be Moot . . .

"A Three-Judge Panel Of The 4th U.S. Circuit Court Of Appeals — Which Also Covers North Carolina — Ruled 2-1 To Overturn The Gloucester County School Board's Policy." - ABCNews



Prediction From 2011 - Fascism Comes To America
__________________________________________________________
Malaysia dragged in for its tough anti-gay stance after PayPal cancels plans to open global operations centre in North Carolina over anti-LGBT state law on using bathrooms. - FMT
__________________________________________________________
No Surprise That China Will Soon Have More Christians Than America
Everyday Asian citizens fully understand the dangers of Socialism. And because of that they may be the next major culture where the world looks to for leadership toward family values while America fades into irrelevance. As a reminder, it was the Vietnamese American fishermen who created their own network to escape Hurricane Katrina that hit New Orleans, not trusting our government to help them.

While New Orleans city citizens waited for their elected cable-executive mayor to lead them out of harm's way, which never happened, the Vietnamese had already taken care of business. As one grandmother was reported to have said when asked about riding out the hurricane, Compared to where I have been it was like a pimple on my side. - Webmaster

Watch this award winning "corporate" ad from an Asian Thai business that reflects traditional human values, which too many American corporations and government officials have quickly abandoned in their arrogance that they still live in the best country in the world. As a side note, it is the Asians who most quickly adapt when coming to America, blending into the society while bringing along their long traditionally held family values.

- Best 2014 Commercial comes from Thailand titled "Unsung Hero." -
MUMBRELLA ASIA:
Q: " Of the ads Ogilvy has produced for Thai Life Insurance over the years, which stands out in your view and why?"
PHAWIT CHITRAKORN: Managing director of Thai Life Insurance's advertising agency Ogilvy & Mather Bangkok:
A: "It's difficult for me to pick a favorite child! So let me answer it another way. From the response we've had globally, Unsung Hero is the number one favorite. It's had over 17,000,000 views from 232 countries within four weeks launched. It's has had 18,000,000 engagements. It's the ninth most shared viral video in the world."

Read More From Source: Mumbrella Asia
TVC Thai Life Insurance Company
- YouTube
__________________________________________________________
- The Trojan Horse In The White House -
| The United States Flag: Federal Law Relating To Display And FAQs | U.S. Flag Code |
Looking around America today, George Bailey did get his wish.
Thank you for considering to pass along these e-mails.
Did you miss one of our e-mails? Check out the link below.
HTML E-mail Content from Freedom is Knowledge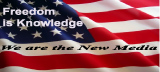 | Fascism Comes To America | It Doesn't Matter?! | What Privacy? | America Facing Evil | Whistleblower | Historic Biblical Times |
| Obama's 1990 article - "We're Going To Reshape Mean-Spirited Selfish America." | Print Page |
It is no measure of health to be well-adjusted to a profoundly sick society - J. Krishnamurti